On 19 June 2023, the Port of Rotterdam Authority signed a contract with Boskalis for the construction of around 40 hectares of new land in the northwest corner of Prinses Alexiahaven. The site is scheduled for completion at the end of 2023.
Source: Port of Rotterdam
Besides constructing the site, Boskalis is also building two sand dams. Sand released behind these sand dams from the deepening of port basins in the coming years can be deposited and reused to create new land in an efficient way.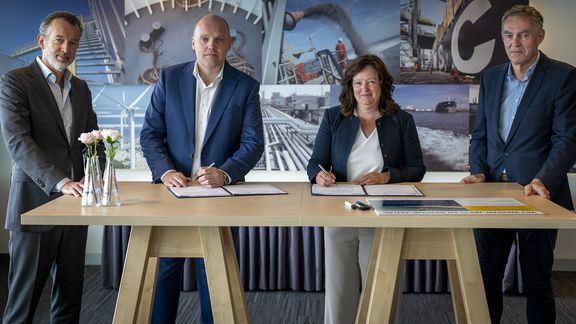 V.l.n.r.: Boudewijn Siemons, Egbert van der Wal, Vivienne de Leeuw (Port of Rotterdam Authority), Peter van der Linde, General Director Boskalis Netherlands. Photo: Jerry Lampen
Due to the energy transition, sites in the port area are in high demand. However, the number of available sites in the existing port area is becoming scarce, which is why the port authority is now starting to build new sites on Maasvlakte 2. Concrete interest has already been shown in these sites.
The construction of new sites is always several years ahead of the establishment of businesses. This time is needed to construct the sites and allow them to settle. Furthermore, new roads and other infrastructure, such as utilities and transmission lines to these sites, must also be built.
Sand dams
The HBV consortium (HOCHTIEF, Ballast Nedam and Van Oord) will soon start deepening the Prinses Amaliahaven. The good sand released will be used in the Prinses Alexiahaven to build new sites, for which sand dams will also be constructed. Dredged-up material that is not suitable for the construction of new sites will be shipped to sea. On the way back, the dredgers will bring sand in. By reusing sand and preventing dredgers from sailing empty, the port authority reduces the environmental cost for the construction of new sites. Some 45 hectares of land will be developed this way in the southeast corner of Alexiahaven during this year and next year alone.