Marriott International's luxury brand The Ritz-Carlton announced Thursday that it is launching an ultra-high-end cruise line. Beginning in 2019, the company will offer cruises on three 150-suite, 300-passenger "yachts."

"This unique combination of yachting and cruising will usher in a new way of luxury travel for guests seeking to discover the world in a relaxed, casually elegant and comfortable atmosphere," said Ritz-Carlton president and CEO Herve Humler.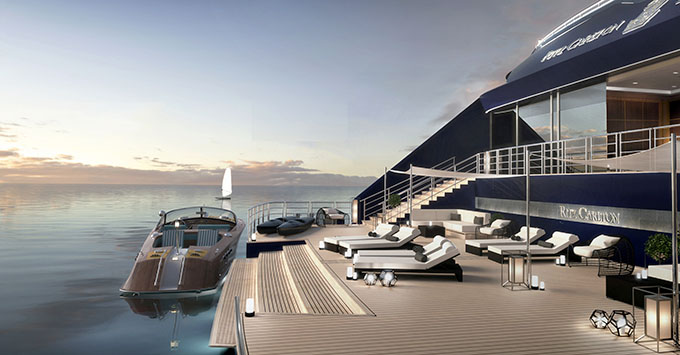 Each passenger cabin will have its own balcony, and two cabins are set up as duplex penthouse suites. Amenities include The Ritz-Carlton Spa and food by Sven Elverfield, the chef behind Michelin-starred restaraunt Aqua. Voyages range from 7 to 10 days and include overnight and daytime ports of call. The first yacht sets sail at the end of 2019, and reservations open May 2018.
Most vessels in this segment are designed as "expedition" cruise vessels, built to operate in far-flung areas, including Arctic and Antarctic waters. But unlike competitors, The Ritz-Carlton is not advertising ice-class hulls. The firm says that its itineraries will feature "intimate and signature destinations" in gentler climates – the Mediterranean, Northern Europe, the Caribbean and Latin America. The aim is to "combine the lifestyle of The Ritz-Carlton's luxury resorts and the casual freedom of a yachting vacation."
Market observers note that there are already many existing operators and new entrants in this segment – like Silversea, Regent, SeaDream, Seabourn, Windstar, Ponant and Scenic. While it may be a crowded field, The Ritz-Carlton has retained experienced executives to help it compete: the company says that the leaders behind the new "Ritz-Carlton Yacht Collection" are Lars Clasen, CEO of the river cruise operator A-ROSA and formerly president of Aida, and maritime entrepreneur and consultant Douglas Prothero, the CEO of Canadian Maritime Group.
Source http://maritime-executive.com